We hope to partner with you in helping your students succeed in their coursework. We are always happy to connect with you to share our expertise, learn from yours, and discuss potential collaborations. 
Syllabus Statement
Include our statement about Weingarten Center programs and services on your syllabus.
Weingarten Center
Canvas Pages
Add a Weingarten Center page to your courses in Canvas to connect students directly with resources.
Recommend Tutors and Collaborate
Ensure that we have tutors available for your undergraduate courses by connecting us with successful students and collaborate with us to support their training.
Citation Practices Module for Graduate/Professional Students
Embed our Effective Citation Practices for Academic Integrity into your Canvas course for gradute and professional students.
Request a Workshop
Partner with the Weingarten Center by requesting a workshop in or outside of your classroom for undergraduate, graduate, or professional students.
Exam Analysis Consultations
Students may request that course instructors share their completed exams with a learning specialist to support discussion of study strategies.
We encourage course instructors to include this statement about Weingarten Center services in your syllabi and Canvas courses.
Weingarten Center
The Weingarten Center offers a variety of resources to support all Penn students in reaching their academic goals. All services are free and confidential. To contact the Weingarten Center, call 215-573-9235. The office is located in Stouffer Commons, 3702 Spruce Street, Suite 300.
Academic Support
Learning consultations and learning strategies workshops support students in developing more efficient and effective study skills and learning strategies. Learning specialists work with undergraduate, graduate, and professional students to address time and project management, academic reading and writing, note-taking, problem-solving, exam preparation, test-taking, self-regulation, and flexibility.
Undergraduates can also take advantage of free on-campus tutoring for many Penn courses in both drop-in and weekly contract formats. Tutoring may be individual or in small groups. Tutors will assist with applying course information, understanding key concepts, and developing course-specific strategies. Tutoring support is available throughout the term but is best accessed early in the semester.
Disability Services
The University of Pennsylvania is committed to the accessibility of its programs and services. Students with a disability or medical condition can request reasonable accommodations through the Weingarten Center website. Disability Services determines accommodations on an individualized basis through an interactive process, including a meeting with the student and a review of their disability documentation. Students who have approved accommodations are encouraged to notify their faculty members and share their accommodation letters at the start of each semester. Students can contact Disability Services by calling 215-573-9235.
Weingarten Center Canvas Pages
The Weingarten Center has created three Canvas pages that highlight key resources and services for undergraduates, graduate/professional students, and students in online programs. We have designed these pages to be shared with course instructors who can import them into their existing Canvas courses. If you would like to import any of these pages into your Canvas courses, please complete our Canvas Pages Interest Form.
Students, please note: These pages are designed for course instructors or staff who manage a Canvas course — not individual students. Students should schedule an appointment with a learning specialist or check out our Study Tools and Strategies. 
This screenshot previews our Canvas page for undergraduates: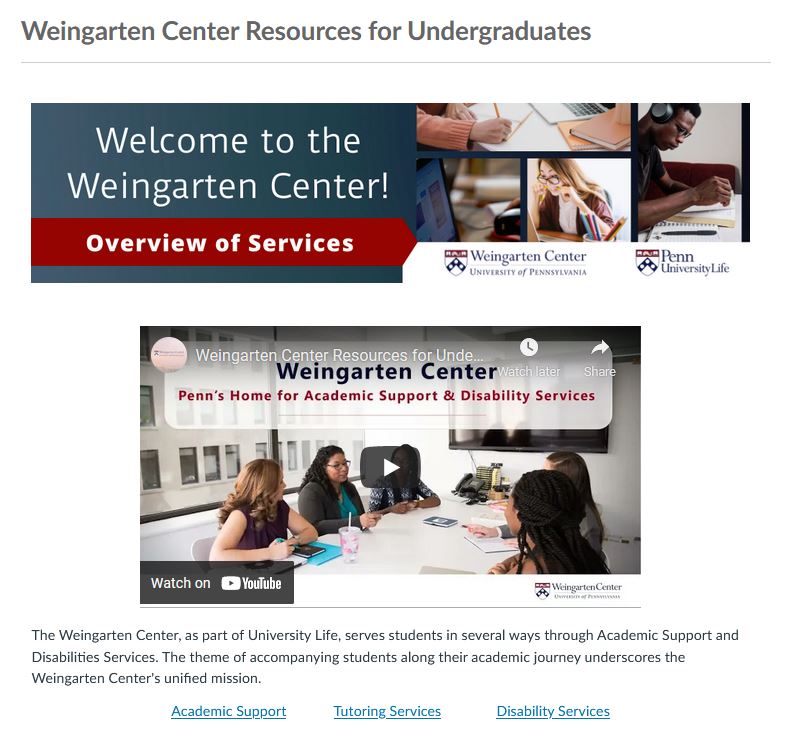 One of the best ways to ensure that we have tutors available for the courses you teach us to help us connect with potential candidates.
What makes a great tutor?
Tell us about a student who would be a great tutor!
Qualifications:
Minimum of B+ in the course (A- in Nursing courses)
Cumulative GPA of 3.0 or higher
Willingness to complete training + 3-hour weekly time commitment
We are always happy to host faculty at tutor meetings to learn about changes to course material, challenges you would like tutors to help students address, or any other thoughts you want to share with our staff.
Citation Practices Module for Graduate/Professional Students
Effective Citation Practices for Academic Integrity is an interactive module designed to support graduate and professional students in submitting work that aligns with Penn's academic integrity expectations. Penn Libraries, the Weingarten Center, the Center for Excellence in Teaching, Learning and Innovation (CETLI), and the Center for Community Standards and Accountability (CSA) collaborated to create this resource for students.

The Weingarten Center partners with Penn faculty, student organizations, and campus colleagues to offer an array of programs throughout the academic year. We facilitate workshops both in and out of the classroom, and they can vary in length from 15 to 90 minutes depending on the learning objectives. Currently, we are accepting requests for virtual and in-person programs.

We would be happy to address Learning Strategies, Tutoring, or Disability Services, or we can provide joint programming inclusive of all Weingarten Center services. 
Possible Program & Workshop Topics
Learning Strategies
Organization and Time Management
Exam Preparation
Effective Study Strategies
STEM Learning Strategies
Note-taking
Project Management
Academic Reading Strategies
Research and Academic Writing
Class Presentations and/or Participation
Goal Setting
Tutoring 
Tutoring support for a study session or event (dependent on availability)
Tutoring Workshops (e.g., How to get the most out of your time with a tutor)
Overview of Services
Disability Services
Disability Inclusion and Accessibility for Events
Universal Design for Learning
Website and Digital Accessibility
Disability Awareness
We will attempt to accommodate all requests, but a minimum of one week's notice is typically needed to schedule and design any group workshop.
Students, please note that this request form is only for group workshops. If you are seeking an individual consultation with a Weingarten Center staff member, please schedule an appointment through MyWeingartenCenter.
Please complete the following program request form and we will follow up with you as soon as possible.
Exam Analysis Consulations
Learning Specialists collaborate with students and faculty to offer exam analysis as part of our learning consultations at the Weingarten Center. Exam analysis helps students further develop their exam preparation and exam-taking strategies by analyzing their performance on recent exams. These sessions focus on how students study and take exams, rather than content knowledge, which should be addressed with faculty.
The following steps outline how students, faculty members, and the Weingarten Center work together to make this service possible.
Step 1: Student Makes an Appointment and Notifies Course Instructor
The student schedules a consultation with a learning specialist through MyWeingartenCenter and emails the course instructor asking them to forward the exam to the Weingarten Center prior to the appointment. The student should provide the course instructor with the first and last name of the learning specialist with whom they will be meeting.
Step 2: Course Instructor Sends Electronic Copy of Student's Exam Via SecureShare
The course instructor uses the name of the learning specialist provided by the student to send an electronic copy of the student's exam through Secure Share.
Step 3: Student Confirms that Weingarten Center Received Exam Before Appointment
The student emails their learning specialist (see Our Team for contact information) to confirm that the exam has been delivered prior to the appointment. If the exam has yet to be delivered, the student is responsible for following up with the course instructor.
It is highly recommended that a student not cancel their appointment if the exam has yet to be delivered. The student can use the scheduled appointment to discuss general exam preparation, exam-taking, and other learning strategies.
Step 4: Learning Specialist and Student Analyze Exam
During the consultation, the learning specialist will allow the student to review the exam. The student and the learning specialist will analyze the exam together in order to identify effective exam preparation and exam-taking strategies.
The student will not be permitted to take screenshots or photographs of the exam or to write down exam questions or answers. The student must follow any instructions or guidelines provided by the course instructor about how they should interact with the exam. If the student takes screenshots, copies exam questions, or fails to follow the course instructor's guidelines during the consultation, the learning specialist will notify the course instructor. A violation of class policy may then be referred to the Office of Student Conduct for a formal disciplinary review.
Step 5: Learning Specialist Deletes Electronic Copy of the Exam
After the consultation, the learning specialist deletes the electronic copy of the exam.