21st Annual Weingarten Center Disability Symposium
Being a Leader in Disability Services, Being a Leader in Higher Education
Friday, March 10, 2023
Location: University of Pennsylvania, Houston Hall
Each one of us has thoughts and expectations of a leader. Fair, honest, decisive, and strategic might be some of the characteristics that you expect from a leader. Leadership skills grow and strengthen through experience, feedback, and persistence. To accomplish our work as disability advisors, educators, and advocates, we problem-solve, research, and collaborate to find ways to eliminate barriers for people with disabilities. "It can be done" serves as the mantra for professionals in the disability field. The 21st Annual Weingarten Center Disability Symposium focuses on the theme of leadership. Think about your role, whether as a university administrator, a K-12 educator, a parent, a student. How have you used your leadership skills to get a project accomplished, to destigmatize what it means to have a disability, to foster universal design, to be a change agent in your organization?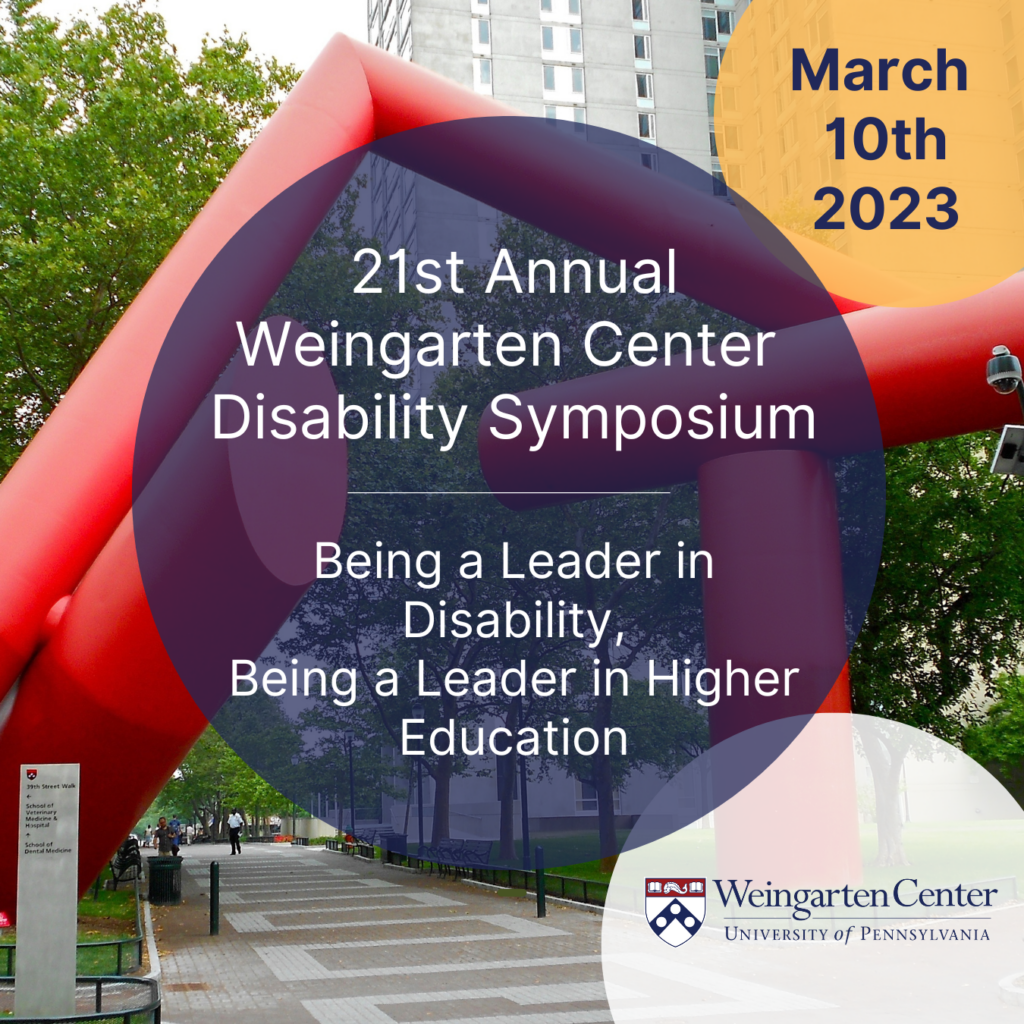 Deep appreciation to Mary Landy C'83 and Joseph Landy W'83 for their generous gift that supports and contributes to the Symposium's ongoing success.
A few presenters at the 21st Annual Weingarten Center Disability Symposium, Being a Leader in Disability Services, Being a Leader in Higher Education, have generously provided access to their presentation slides.
Reaching Our Leadership Potential



Presenter: Adam Meyer, University of Central Florida

Forging Opportunities for Neurodiverse Students



Presenters: Val Ross, Director, Marks Family Center for Excellence in Writing; University of Pennsylvania; Jon Argaman, Lecturer in Critical Writing, University of Pennsylvania; Amanda DiLodovico, Lecturer in Critical Writing, University of Pennsylvania

Presentation Slides – Forging Opportunities for Neurodiverse Students